PLEBS - Live at Unicorn Studios 1982 → cass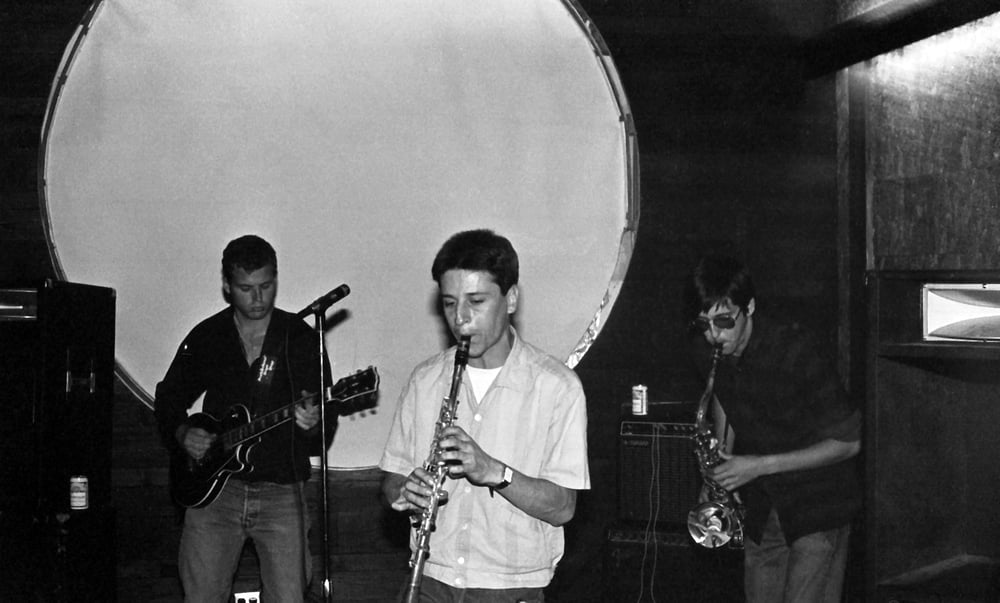 Martin Tamburovich sax, vocals
Gino Pusztai clarinet, vocals
Ken Starkey guitar, vocals
Plebs use realistic rhythm
_________________________
10 songs
01. CHANGE
02. SMELL THE ROSE
03. CORPORATE WAR
04. PAYDAY
05. (WHAT YOU SEE)
06. (NO WAY TO FIND IT)
07. (MONOPOLY)
08. (FRUSTRATION)
09. REDHEAD
10. A DAY AT THE TRACK
_________________________
"FOR MARTY"
Recorded by Joe Carducci at Unicorn Studios
in Santa Monica, CA - March 6, 1982
Transfer by Joseph Pope
Mastered by Bob Archer
Photos by Jordan Schwartz
Layout by Craig Ibarra
_________________________
Black Flag and SST were living and working in a back office space at Unicorn Records in West Hollywood when the Damaged album was released in December 1981. Minutemen's The Punch Line and Saccharine Trust's Paganicons also were released from that office. When Unicorn moved to Santa Monica in February 1982 — SST moved down into an office on Phelan Ave. in Redondo Beach. There was extra space at the new Unicorn address too, and as Black Flag wasn't on the outs with Unicorn quite yet the band used that space for a practice studio. Saccharine Trust was also practicing there as they did support on most of the Damaged tour-dates in 1982. One of the first promo photos taken for us by Naomi Petersen was of Saccharine Trust at a practice there — that photo is reprinted in my book, Enter Naomi, which also features a July 1 shot of Minor Threat with Robo and Henry Rollins standing out front of this Unicorn address. The book also includes a Jordan Schwartz photo of Saccharine Trust playing the same party when this set by The Plebs was recorded where you can see most of the audience of Black Flag, SST and a lot of the Wilmington/San Pedro contingent including The Plebs. Minutemen also played this Unicorn practice-pad party on March 6, 1982. I had started carrying the smallest cassette recorder Aiwa made in those years to every gig I went to starting in Berkeley when I wanted to capture what the band Flipper was doing live. The condenser microphone was probably designed to record the human voice in meetings rather than live bands of the punk era but The Plebs came out sounding better than most bands since they didn't have the usual rock band instrumentation or approach. This is probably the best capture of the live set The Plebs did at this time; two months later they went into Music Lab with Spot and recorded their New Alliance 7-Inch. I'm glad that one of my better live tapes will see release by Water Under the Bridge; it was kind of a hassle to carry that little machine around with me everywhere.

—Joe Carducci, 2018
The Plebs were Martin Tamburovich, Gino Pusztai and Ken Starkey. Saxophone, clarinet, guitar and Radio Shack rhythm machine. They had huge punk spirit, even though it didn't sound like hardcore. It sounds like reverberations of listening to those musics in the '70s. Experimental — not so much Chuck Berry. For those days, Plebs were pretty unique. Not being hardcore and being kind of experimental — there wasn't that much South Bay like that. Even the Minutemen weren't that wiggy. Plebs were pretty balls out. A lot of that had to do with the records we were listening to that we got at Zed. These were bands we never seen play live. Well, some of them we did, I remember there was a gig where Cabaret Voltaire came with Young Marble Giants and then one time the Fall came with Blurt. That was the only time we got to see any of those bands from the records. So, I could see those guys wanting to get into that more. But as far as a scene to play gigs, they couldn't get gigs playing that shit. The Minutemen, we played faster. I'm not saying we sucked up to hardcore, but we adapted to the sitch. They did some gigs too, not a lot though. If you wanted to play gigs you had to do some fast rock and roll. They had some of that experimental shit up north, even in East L.A. with Nervous Gender. L.A. had Screamers before that and then shit like Monitor from Arizona. There was some wiggy stuff. Even though we dug the music, where are we gonna play the gigs? We're opening up for Flag, fourth on the bill at the Stardust Ballroom, or the Cuckoo's Nest. I'm not saying Minutemen were careering. Minutemen comes from rock and roll, too. You gotta admit: Creedence, Blue Öyster Cult. Even though we enjoyed the experimental music, we didn't do it; we played rock and roll guitar and bass. We had a big appreciation for experimental music. I think for the South Bay at that time — the Plebs were pretty adventurous. They did it for the pure love of it. There was no audience they were going for. That was just pure, "This is what we wanna do." So, in a way, those guys were balls out. In some ways, the Plebs had a little more cojones than we did, overall. Sometimes Minutemen would do little jams, little space out things, but not like those guys, man.

—Mike Watt, A Wailing of A Town
_________________________
IMMEDIATE DOWNLOAD
Order here:
PLEBS - Live at Unicorn Studios 1982
Download 10-track album in your choice of high-quality MP3, FLAC, or just about any other format you could possibly desire.
_________________________
PRODUCT HIGHLIGHTS
• Includes Digital Download
• Red Ink on White Shells
• Limited Edition of 100
▬
WUBC 020
Release Date: 06.22.18