RIG - Demolstruct → cass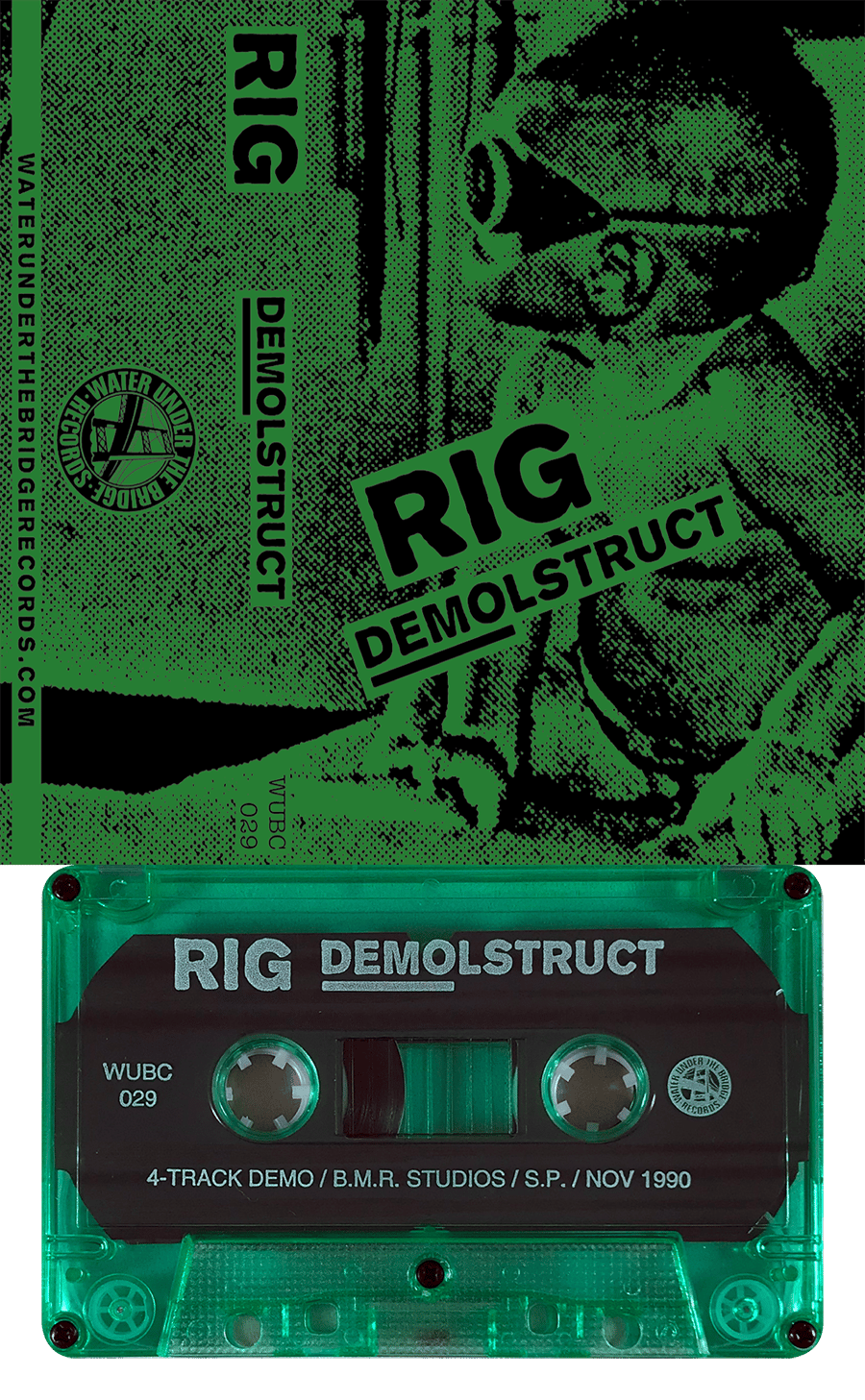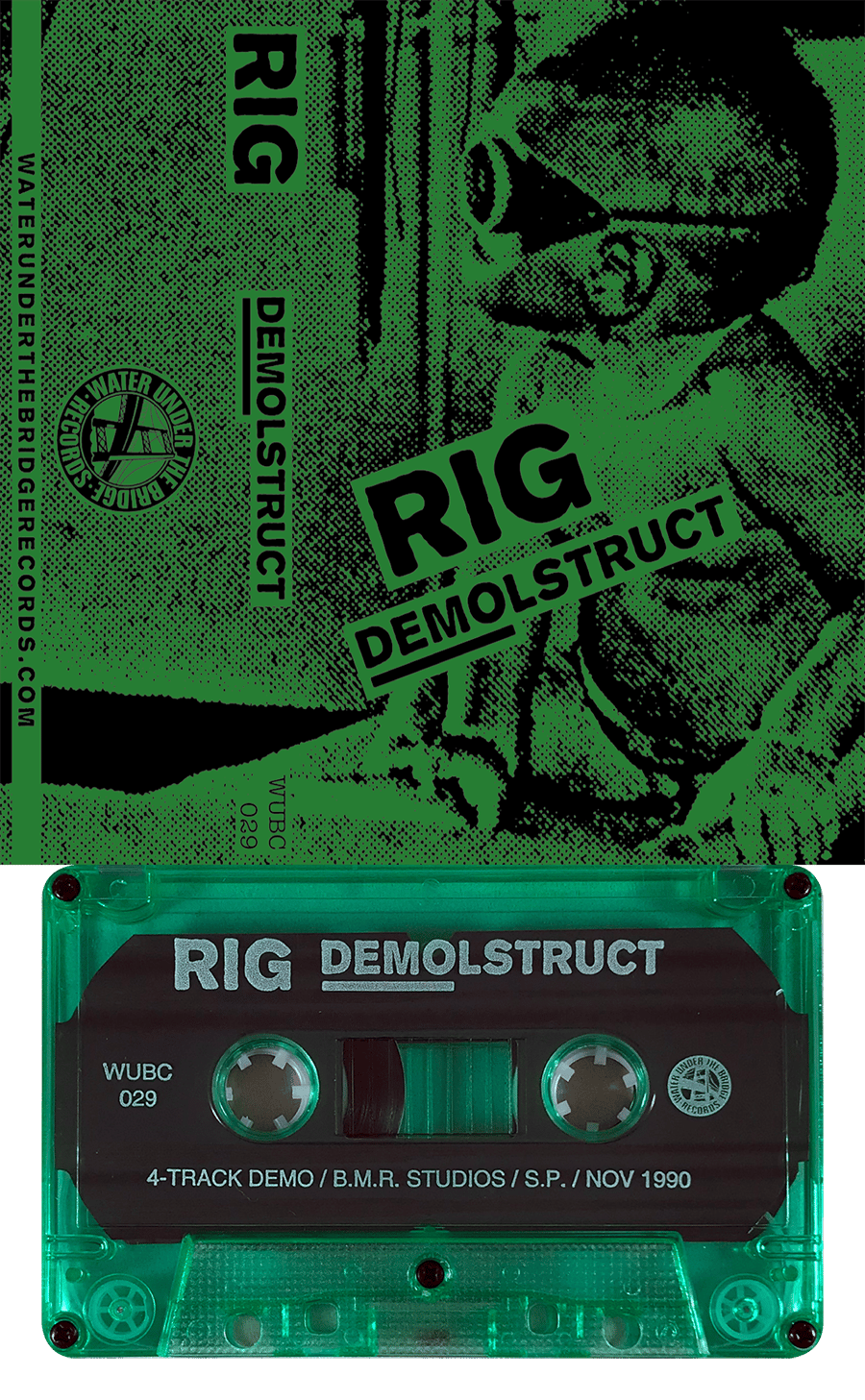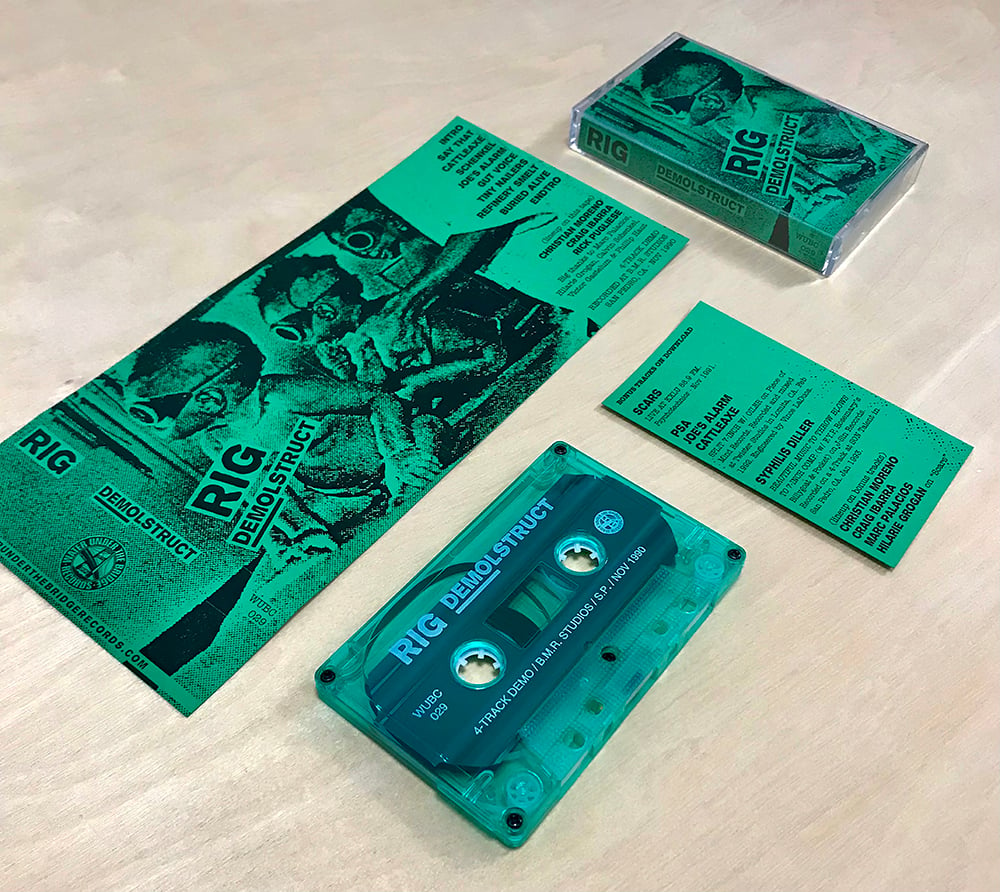 10 songs
01. INTRO
02. SAY THAT
03. CATTLEAXE
04. SCHENKEL
05. JOE'S ALARM
06. GUT VOICE
07. TINY NAILERS
08. REFINERY SMELT
09. BURIED ALIVE
10. ENDTRO
_________________________
(lineup on tape)
CHRISTIAN MORENO
CRAIG IBARRA
RICK PUGLIESE
4-TRACK DEMO
RECORDED AT B.M.R. STUDIOS
SAN PEDRO, CA - NOV 1990
_________________________
BONUS TRACKS ON DOWNLOAD
11. SCARS
12. PERSONAL SERVICE ANNOUNCEMENT
13. JOE'S ALARM
14. CATTLEAXE
15. SYPHILIS DILLER
_________________________
(lineup on bonus tracks)
CHRISTIAN MORENO
CRAIG IBARRA
MARC PALACIOS
HILARIE GROGAN on "Scars"
_________________________
Mastered by Phillip Haut
_________________________
This collection encapsulates RIG's early years (1990-1993), right before signing with Cruz Records in 1994. The featured cassette includes RIG's first-ever (demo) recordings produced at the tail end of 1990. Cassettes were dubbed and passed around which helped get their initial shows starting in mid-1991. This cassette also comes with a download code that includes five bonus tracks: one track from a live performance on KXLU 88.9 FM in 1991, three tracks from a split 7" with Oiler released in 1992 (Piece of Mind Records) and one track from the Beautiful Music to Throw Blows To 7" kompilation (w/ F.Y.P, Rosemary's Billygoat & Pocket) released in 1993 (J-Sin Records).
"What does greed sound like? What do smokestacks choking the sky sound like? What does unbridled capitalism sound like? Rhythmic, metallic and cacophonous. RIG was inspired by these qualities and aspired to pull a judo move by juxtaposing lyrics that were critical of the very soundtrack they themselves were producing. Lyrics about exploitation and injustice backed by clanking, chugging machinery. From the beginning that was the vision and intent of RIG."
— Christian Moreno
_________________________
PRODUCT HIGHLIGHTS
• Includes Digital Download
• Download Includes Five Bonus Tracks
• Translucent Green Cassettes
• Limited Edition of 100
▬
WUB 029
Release Date: 05.12.23