EPIC DEBAUCHERY - Excess In Moderation → cass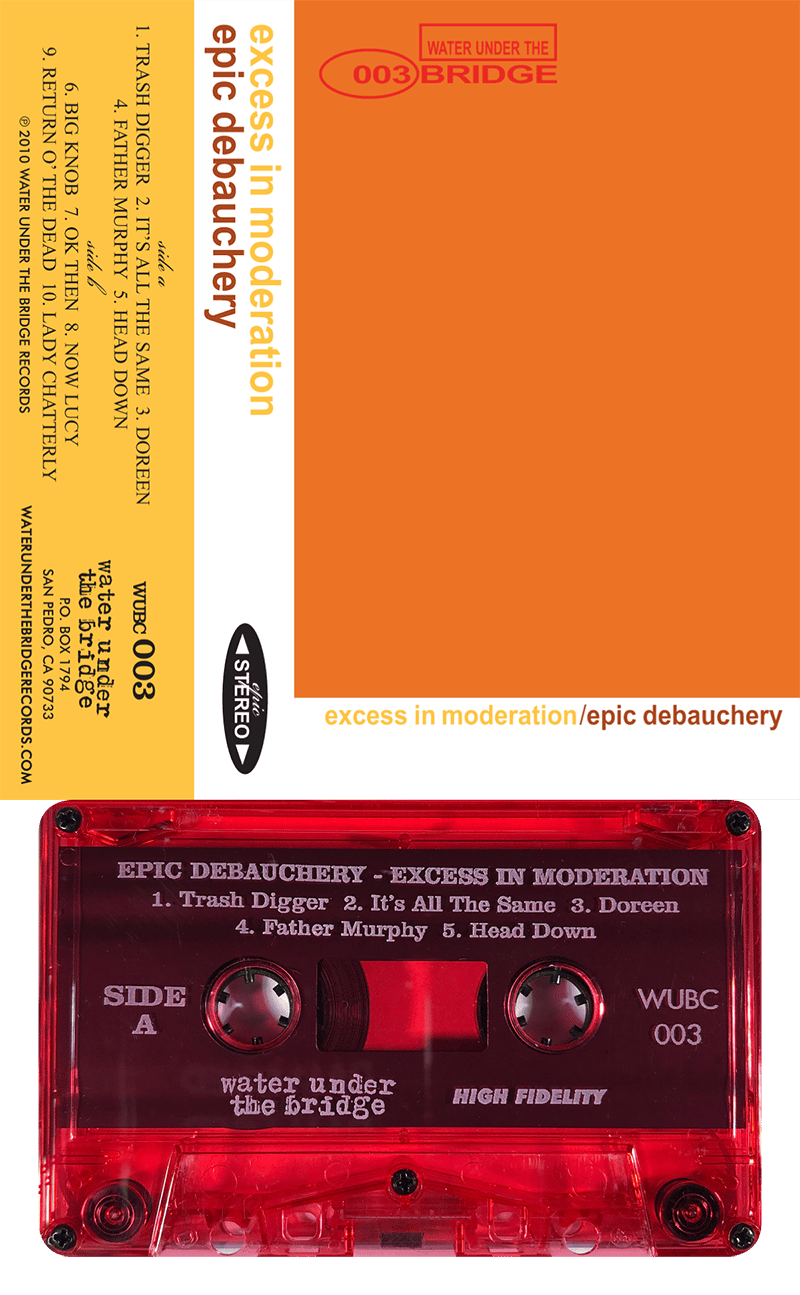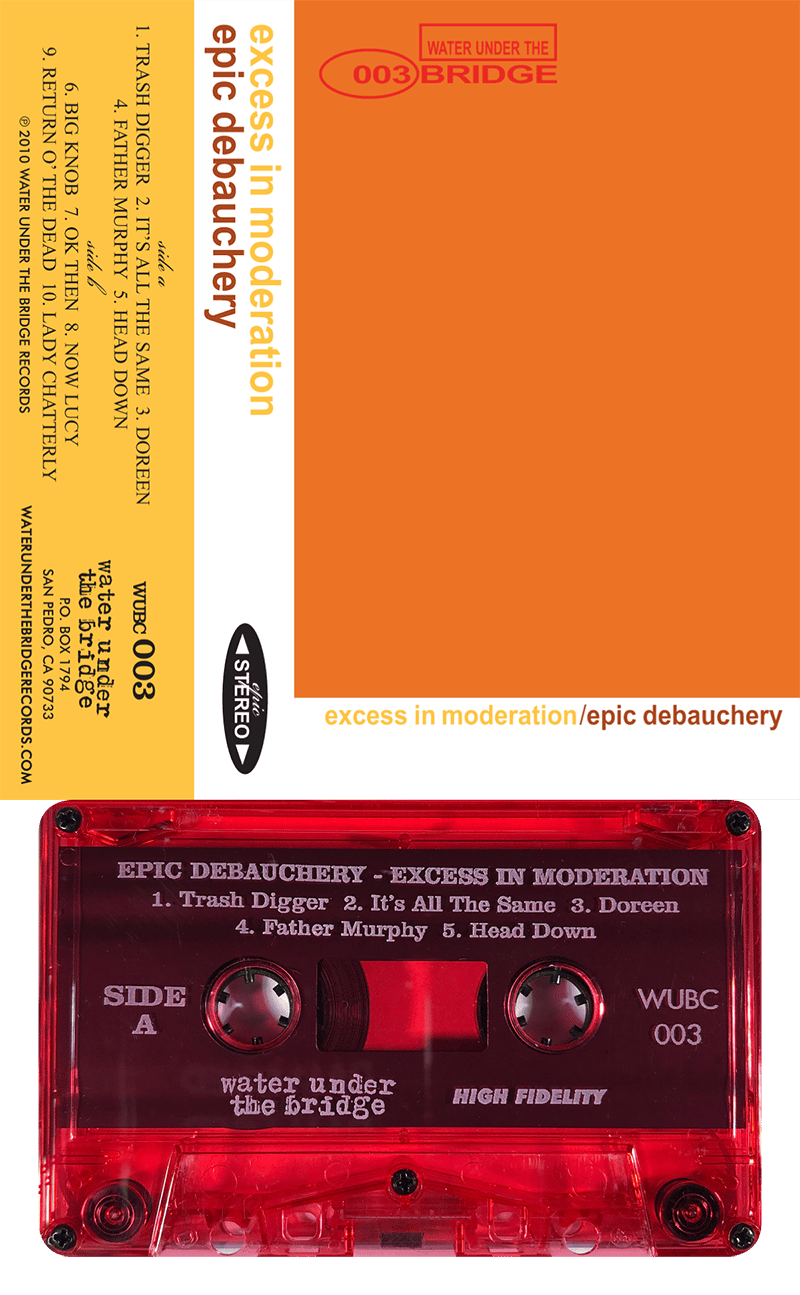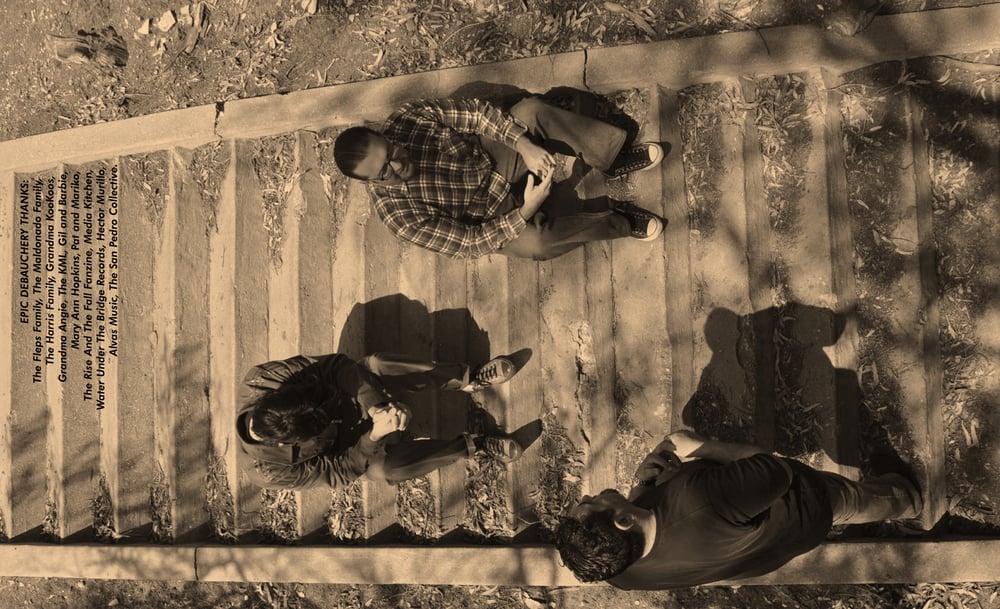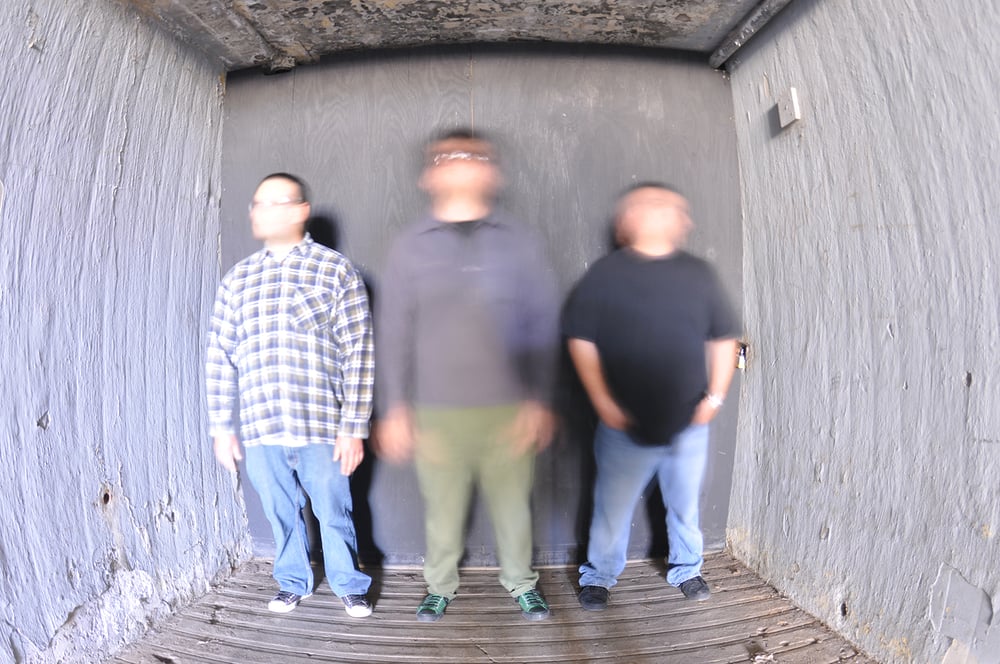 Billy Fleps bass, vocals
Moe Maldonado guitar
Denis Fleps drums
_________________________
10 songs
01. TRASH DIGGER
02. IT'S ALL THE SAME
03. DOREEN
04. FATHER MURPHY
05. HEAD DOWN
06. BIG KNOB
07. OK THEN
08. NOW LUCY
09. RETURN O' THE DEAD
10. LADY CHATTERLY
_________________________
Cover inspired by Reid Miles
Photos by Shanty Cheryl
_________________________
Produced by Epic Debauchery and The KML
Recorded and Engineered by The KML in the A Room at Media Kitchen in Gardena, CA
_________________________
These guys have played in tons of bands: Rosemary's Billygoat, Spinning Ceilings, E.Coli, Iambic Pentameter, Toys That Kill, Megahurts, The Law and the list goes on. This is one of the few bands that can pull Hollywood hipsters away from their iPhones and hold their attention for the set. When I asked Denis Fleps how he would describe the band he said, "Mid '80s, Valley Girl rock, played by guys going through a mid-life crisis … too stubborn to turn down the volume and play real music." That sounds about right to me. One time in San Pedro, CA a girl came up to the guys after they played and said she loved the band, but had to leave because the vibrations were hurting her uterus. It turns out the guys got a bunch of free CRUNK energy drinks just before they played, and drank three each. As of late, I hear the boys have been hanging around Trader Joe's scoring STEAZ energy drinks. So if you think you might be pregnant and you're at an Epic Debauchery gig, get some earplugs for your uterus.
_________________________
VIDEO
_________________________
IMMEDIATE DOWNLOAD
Order here:
EPIC DEBAUCHERY - Excess in Moderation
Download individual tracks or immediate download of 10-track album in your choice of high-quality MP3, FLAC, or just about any other format you could possibly desire.
_________________________
PRODUCT HIGHLIGHTS
• Includes Digital Download
• Limited Edition of 250
▬
WUBC 003
Release Date: 09.11.10