NO COMPRENDE - Comprende? EP → cd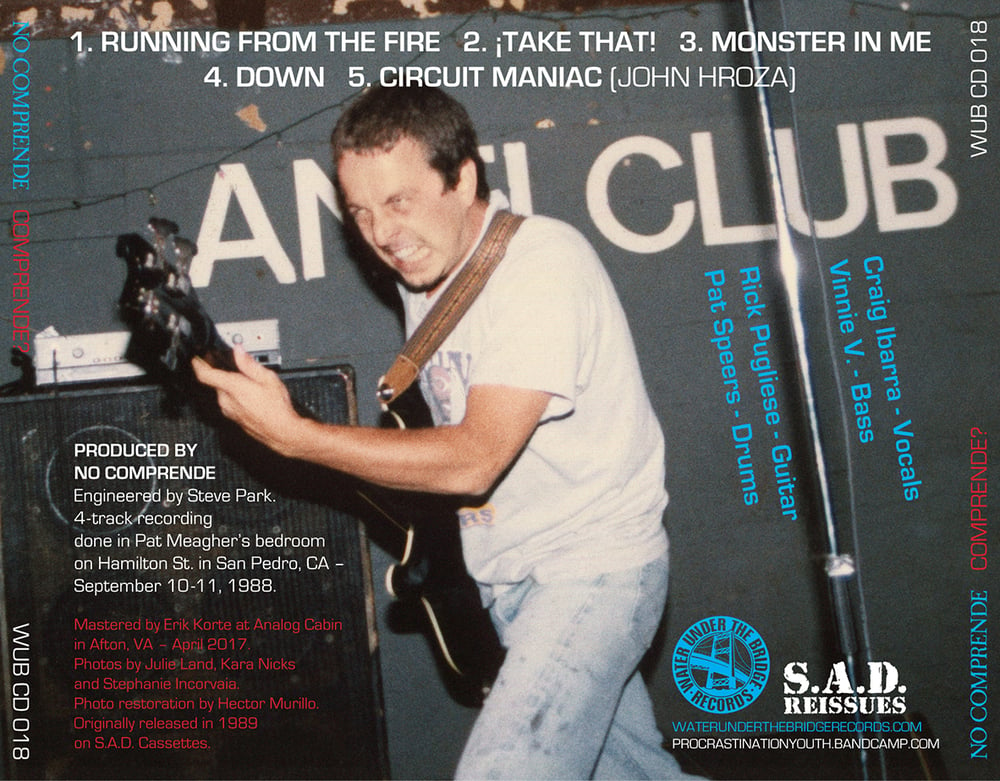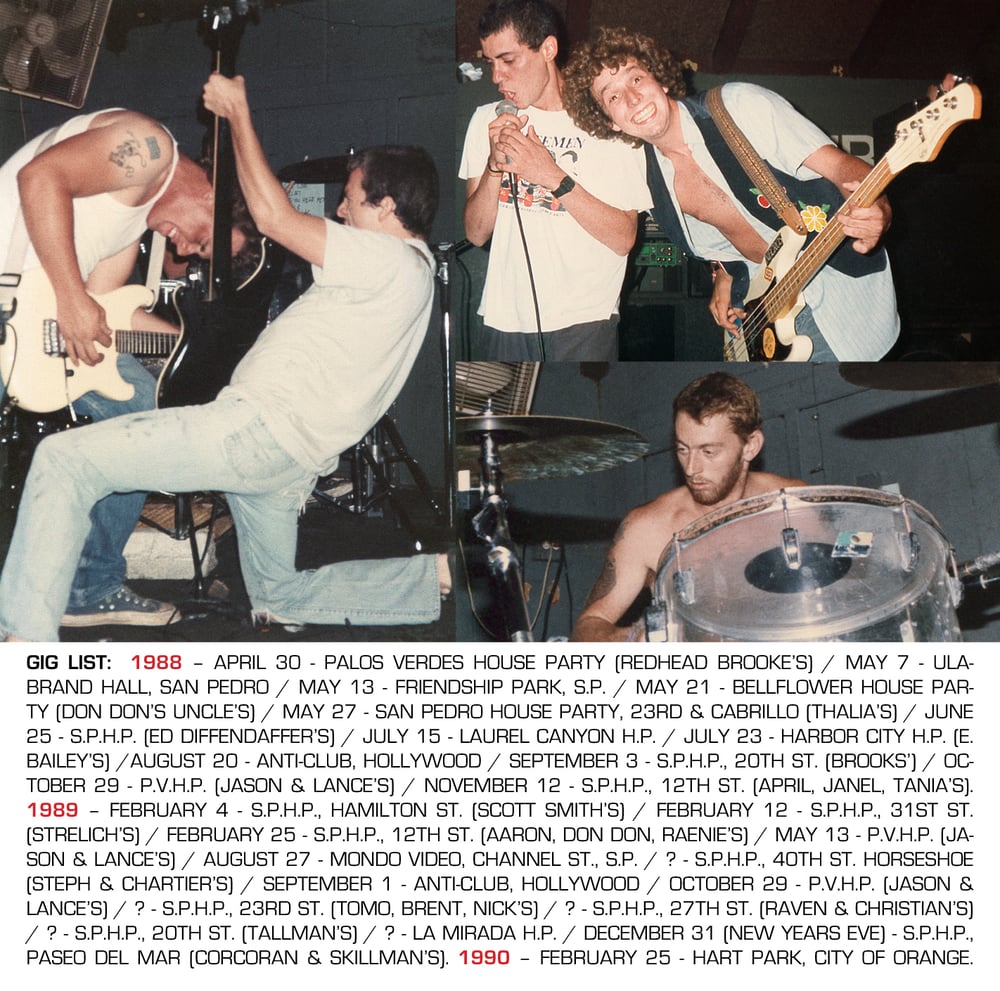 NO COMPRENDE - Comprende? EP (CD)
$7
Marketed by Water Under the Bridge Records
Craig Ibarra vocals
Vinnie V. bass
Rick Pugliese guitar
Pat Speers drums
_________________________
5 songs
01. RUNNING FROM THE FIRE
02. TAKE THAT!
03. MONSTER IN ME
04. DOWN
05. CIRCUIT MANIAC
_________________________
Produced by No Comprende
Engineered by Steve Park
4-track recording done in Pat Meagher's bedroom
on Hamilton St. in San Pedro, CA
September 10-11,1988
Mastered by Erik Korte
at Analog Cabin in Afton, VA – April 2017
Cover photo by Julie Land
_________________________
Pedro dudes: Rick, Vinnie and Pat contemplated the idea of starting a heavy metal joke band sometime in mid-'87.
Vinnie played in a couple of Palos Verdes bands from 1982 to 1985 — Forgotten Trust and Assailants, both never made it out of the garage. Vinnie also played in a band called Disturbance for a short time in 1986. Rick and Pat previously played in a Pedro punk band called Bedlam from around 1983 to 1985. Pat also played drums for the Pedro/Palos Verdes band, Hippie Temptation in 1987, among others.
Kitchen jams began going down shortly after at the O.G. 15th Street punk house (near Gaffey) from which Vinnie resided, along with roommate, Craig Ibarra.
Craig had just ended his run singing in his first punk band called Bad Vibes along with other Pedro dudes: Mike Naylor, Elvis Segarich and Danny Torres. They never managed to get out of the garage.
Not long after the first couple kitchen jams, Craig showed interest and soon after, got jumped in. Craig immediately came up with the band name, No Comprende, and managed to push the band into more practice time and playing live for the first time on April 30, 1988 at a Palos Verdes house party — even though they weren't ready.
The heavy metal joke band idea faded and their punk roots begun to seep in. No Comprende were strongly influenced by two black's — Flag and Sabbath.
Practices soon moved over to Pat's parents garage on Calzada Drive (near Dodson elementary), which drove his mother and neighbors up the wall.

After realizing there were not a lot of options to play live, Craig began relentlessly calling various acquaintances on weekends and pleading to them to let No Comprende play their backyards for impromptu shows, which worked for a couple months before the band wore out their welcome with their compadres.
No Comprende joined the tail end of the Pedro/P.V. '80s backyard party era with flying, colors — and bodies.
Not long after, Steve Park who also played in Bedlam, engineered and recorded No Comprende's five song demo on September 10-11, 1988 in Pat Meagher's bedroom on Hamilton Street, which turned out to be their only recorded output. This recording was released on Craig's cassette label, S.A.D. Cassettes, sometime in 1989, titled: Comprende?
Eventually, N.C. landed their first club gig at the Anti-Club in Hollywood on September 1, 1989 with help from Philo Van Duyne, who was playing guitar with SWA at the time. N.C. managed to play one other Anti-Club gig the following year, but with not many connections, the backyard parties remained their bread and butter. N.C. backyard party performances were legendary for bringing out the town knuckleheads and the mayhem that ensued, not to mention, a certain red elephant g-string that also made appearances at said parties.
Eventually, certain members lost interest right around the time the Grateful Dead disease spread across parts of the Pedro punk community.
Being that certain members lost interest, their last show was in the daytime on February 25, 1990 at Hart Park in the city of Orange and that was that. Not long after, Craig and Rick went on to start a band with Christian Wabschall called Rig. Christian also played in Bedlam, Hippie Temptation, Skinhorse and much later, 400 Blows. No Comprende did reunion shows in '95 and '98. In '99, they added Raven Harris on bass while Vinnie moved over to second guitar. They did a handful of shows with this lineup, which was jokingly called, New Comprende — by some. Oh yeah, they did one more reunion show with the original lineup (without Raven) in 2014 for Craig's birthday party at Harold's Place in San Pedro — and yes, the elephant made an appearance, in case you were wondering.
_________________________
PRODUCT HIGHLIGHTS
• Jewel Case
• Originally released in 1989 on S.A.D. Cassettes
• S.A.D. Reissues

▬
WUB 018
Release Date: 06.05.17