WISH GRANTERS - S/T → 12" ep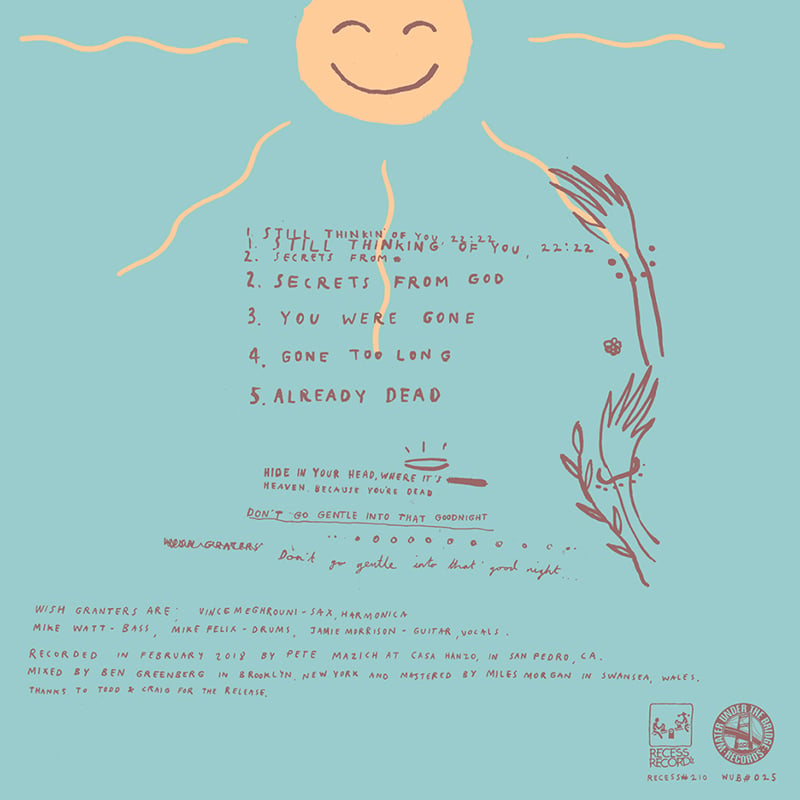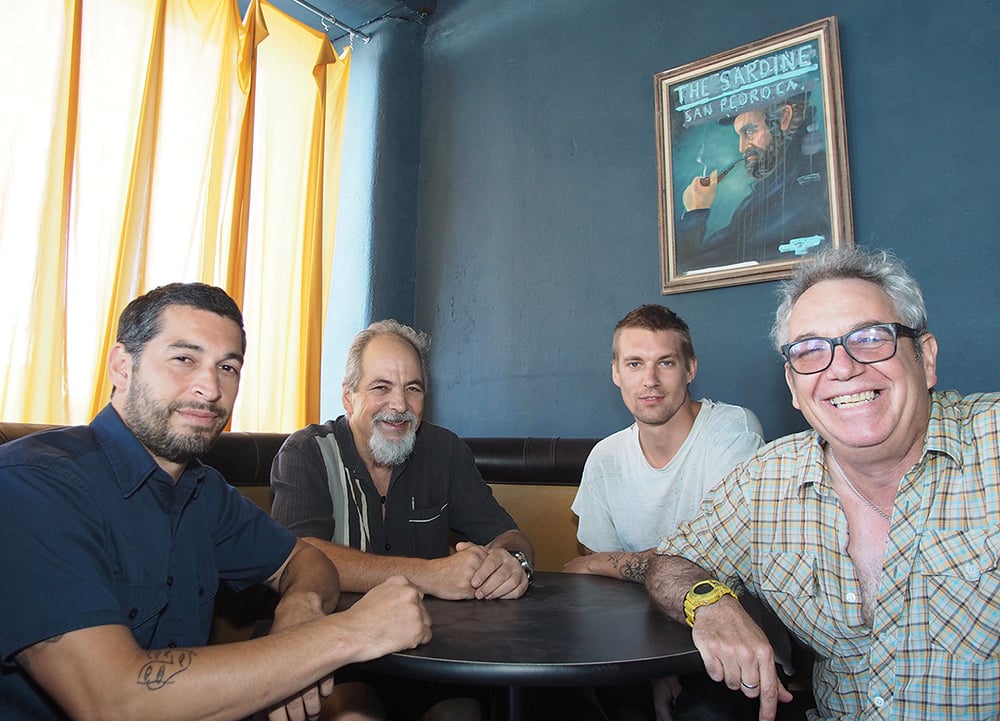 Jamie Morrison guitar, vocals
Mike Watt bass
Vince Meghrouni sax, harmonica
Mike Felix drums
_________________________
5 songs
01. STILL THINKING OF YOU
02. SECRETS FROM GOD
03. YOU WERE GONE
04. GONE TOO LONG
05. ALREADY DEAD
06. Bonus Track included on Download
While in London with his Italian band, Il Sogno del Marinaio, Mike Watt asked Jamie Morrison (Pale Angels) if he had songs and suggested that they do a "proj.'" They talked about drummers, and Jamie suggested Jimmy (AKA Mike Felix) from Toys That Kill. Watt responded, "Oh yeah, Jimmy's great. He's got that one beat." Watt mentioned Vince Meghrouni (Atomic Sherpas), an old friend of his who he wanted to include on saxophone. When it came to writing, Reza Mireshan (Pale Angels) and Jamie hashed out five new ideas one evening in their hometown of Swansea, a coastal city in Wales. iPhone recordings would become the demos to send to the participants in the new group Watt christened, Wish Granters.
"Once I got to the states, Jimmy and I went through the songs a few times so he could get familiar with Reza's ideas and work in his own. Next up was a rehearsal with Vince at his home in Echo Park, CA which is more like a music/art museum. Vince had already written his parts on the sax and harmonica for all the songs. I was blown away by this guy. He added so much depth to my simple ideas and really transformed the feel of it all. What a character, what a musician! Thank you, Vince. We spent a weekend at Casa Hanzo studio in San Pedro, CA in February 2018 with Pete Mazich at the helm. This was the first time the four of us had gotten together to go over the music. We restructured some parts to compliment the new dynamics. Getting this far without a bass line for Jimmy to follow caused some rhythmic adjustments, once Watt started cooking up his parts. Watt was another huge addition to the depth of what once sounded and seemed like simple songs to me, back in Swansea."
—Jamie Morrison, 2019
________________________
Themes of heartbreak, loss, a concept of only dog heaven and keeping "sin" a secret from (the idea of a) "god." Woven between the soothing horn harmonies, rolling bass licks and percussive prowess comes the overdriven guitar and vocals urging you, the listener, to get off your ass and live a little. With tunes that sound like they were birthed in the smokiest basements of yore, Wish Granters bring to life a powerfully unique record that rumbles and grooves straight to the harmonic center of your soul. Six Anthems to help you rage, against the dying light.
_________________________
PRODUCT HIGHLIGHTS
• Includes Digital Download
• Bonus Track on Download
• Photo © Robert Ibarra
• Split Release w/ Recess Records
• Ltd. Pressing of 300

▬
WUB 025 / REC #211
Release Date: 11.15.19