THE REACTIONARIES - 1979 Ltd. Edition → lp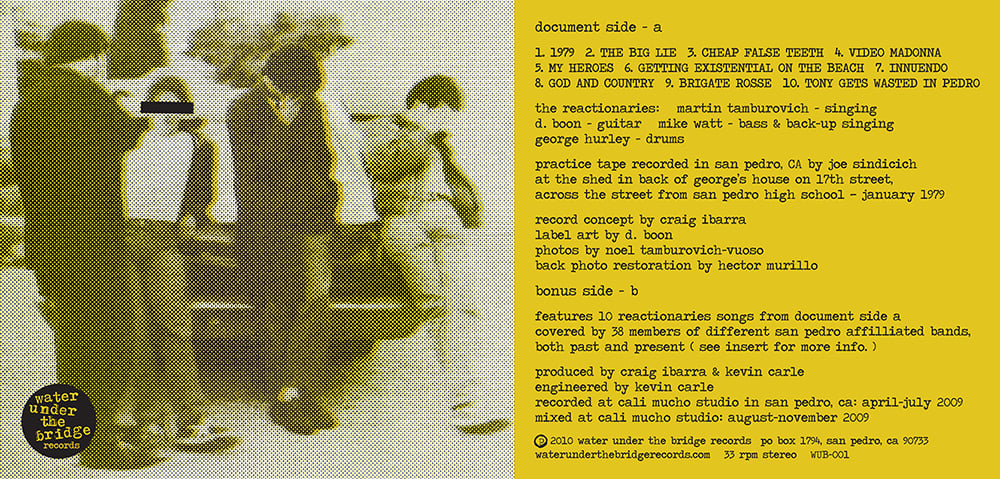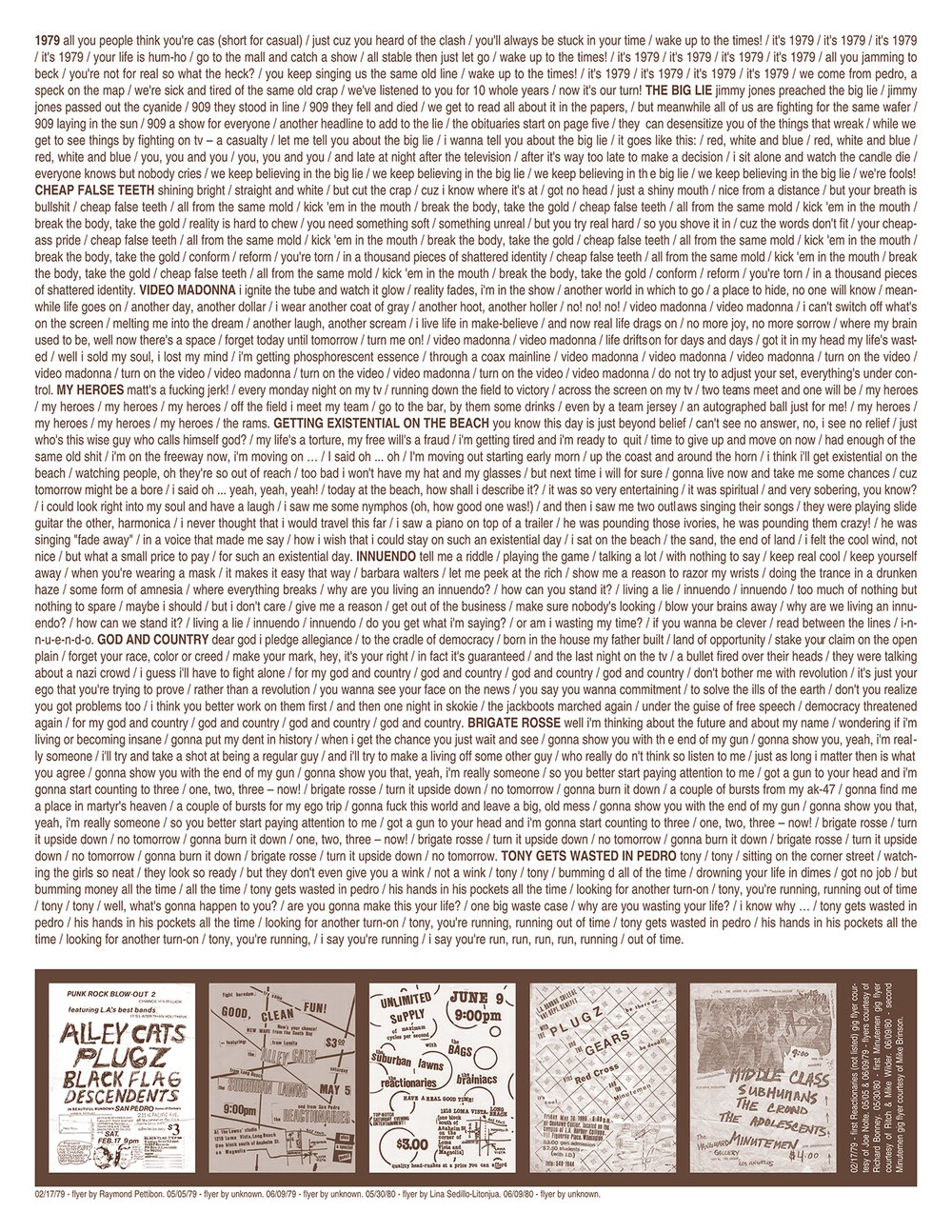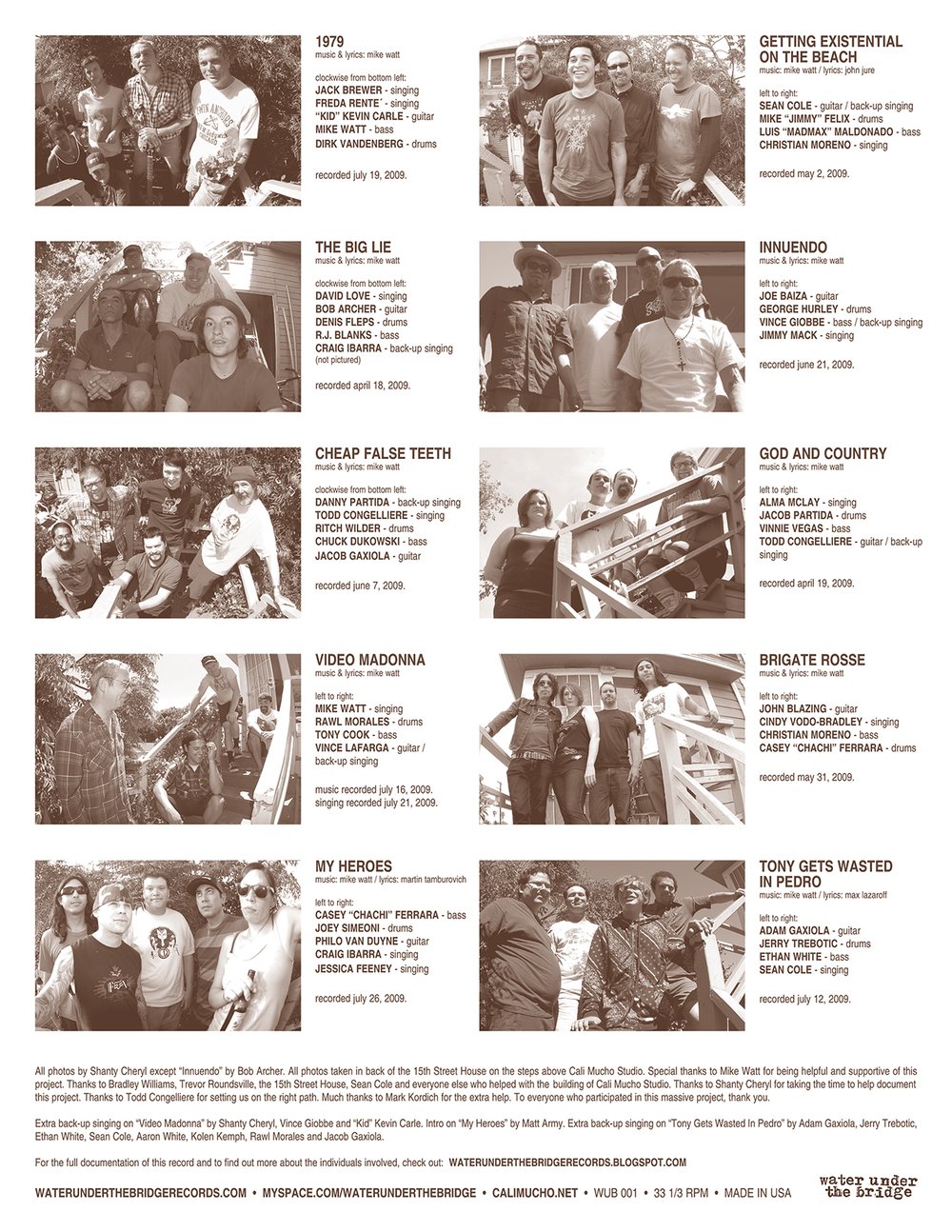 Special Red Vinyl pressing with Limited Edition Foldover / J-card Jacket (only 200 made) — Download Code included with vinyl for the first time plus three additional "Tribute" Bonus Tracks & original two-sided 8.5 x 11" Insert. Don't miss out …
Martin Tamburovich vocals
D. Boon guitar
Mike Watt bass, back-ups
George Hurley drums
_________________________
DOCUMENT TRACKS
Practice tape recorded in San Pedro, CA, at the shed in back of George's house on 17th Street, across the street from San Pedro High School – January 1979.
1. 1979
2. THE BIG LIE
3. CHEAP FALSE TEETH
4. VIDEO MADONNA
5. MY HEROES
6. GETTING EXISTENTIAL ON
THE BEACH
7. INNUENDO
8. GOD AND COUNTRY
9. BRIGATE ROSSE
10. TONY GETS WASTED IN PEDRO
_________________________
BONUS TRACKS
Bonus tracks 11-20 features 38 members from past and present San Pedro affiliated bands, covering the original 10 Reactionaries songs (tracks 1-10).
11. 1979
jack brewer singing
freda renté singing
kevin carle guitar
mike watt bass
dirk vandenberg drums
12. THE BIG LIE
david love singing
bob archer guitar
r.j. blanks bass
denis fleps drums
craig ibarra back-ups
13. CHEAP FALSE TEETH
todd congelliere singing
jacob gaxiola guitar
chuck dukowski bass
richie wilder drums
danny partida back-ups
14. VIDEO MADONNA
mike watt singing
vince la farga guitar and back-ups
tony cook bass
rawl morales drums
15. MY HEROES
craig ibarra singing
jessica feeney singing
philo van duyne guitar
casey ferrara bass
joey simeoni drums
16. GETTING EXISTENTIAL ON THE BEACH
christian moreno singing
sean cole guitar and back-ups
luis maldonado bass
mike "jimmy" felix drums
17. INNUENDO
jimmy mack singing
joe baiza guitar
vince giobbe bass and back-ups
george hurley drums
18. GOD AND COUNTRY
alma mclay singing
todd congelliere guitar and back-ups
vinnie vegas bass
jacob partida drums
19. BRIGATE ROSSE
cindy vodo-bradley singing
john blazing guitar
christian moreno bass
casey "chachi" ferrara drums
20. TONY GETS WASTED IN PEDRO
sean cole singing
adam gaxiola guitar and back-ups
ethan white bass and back-ups
jerry trebotic drums and back-ups
_________________________
Produced By Craig Ibarra and Kevin Carle
Recorded At Cali Mucho
Mixed By Kevin Carle, Vince Giobbe, Sean Cole, Craig Ibarra, Rawl Morales and Bob Archer
Mastered By Dave Eck at Lucky Lacquers
Cover Photo By Noel Tamburovich-Vuoso
Label Art By D. Boon
_________________________
For the full documentation of this record and to find out more about the individuals involved, check out:
THE REACTIONARIES - 1979 BLOG
_________________________
VIDEO
_________________________
PRODUCT HIGHLIGHTS

• Limited Edition Foldover / J-card Jacket (200)
• Includes Digital Download
• Red Vinyl
• Three Additional Bonus Tracks on Download
• Two-sided 8.5 x 11" Insert
▬
WUB 001
Original Release Date: 01.10.10