THE OBSTACLES - Acoustic 1976 → cass (precursor to Saccharine Trust)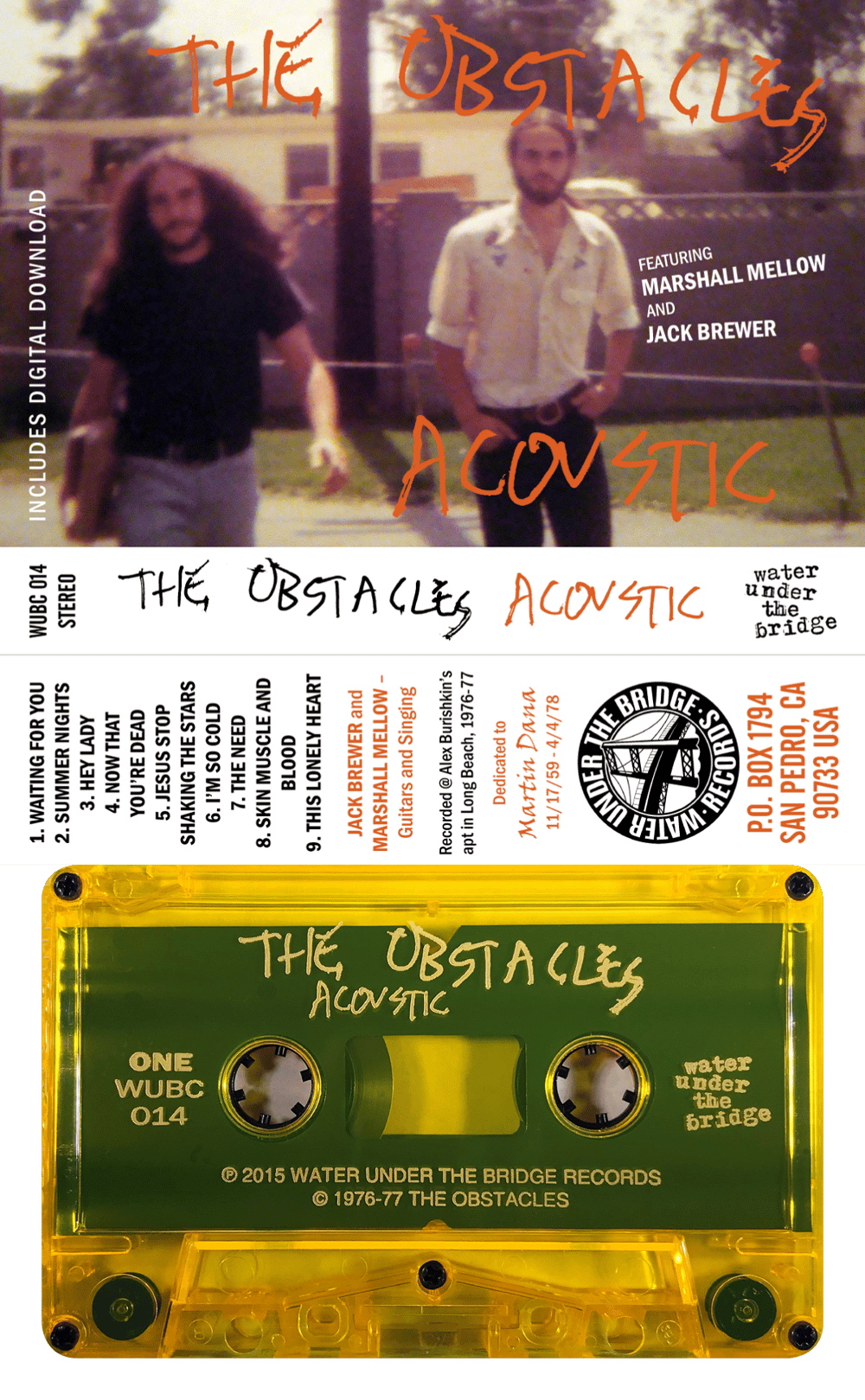 Jack Brewer guitar & singing
Marshall Mellow guitar & singing
_________________________
10 songs
01. WAITING FOR YOU
02. SUMMER NIGHTS
03. HEY LADY
04. NOW THAT YOU'RE DEAD
05. JESUS STOP SHAKING THE STARS
06. I'M SO COLD
07. THE NEED
08. SKIN MUSCLE AND BLOOD
09. THIS LONELY HEART
Bonus Track on Download
10. SUNDAY SCHOOL
_________________________
Photo courtesy of Jack Brewer
Recorded @ Alex Burishkin's apt in Long Beach, 1976-77
Dedicated to:
Martin Dana
11/17/59 - 4/4/78
_________________________
The Obstacles were a quirky pop band from Wilmington, California in the mid-to-late '70s. Kind of sort of like Lennon and McCartney — this Wilmas dream team of Jack Brewer and Marshall "Mellow" Dana were the tag team force behind this short-lived group. With big dreams of catapulting themselves into the big time, Jack and Marshall worked hard to purchase enough equipment to supply the entire band, so fledgling players would have no excuse not to rehearse with them. With various members coming and going, it made it hard for the band to get any leverage to take them to the next level. Eventually, Jack met Joe Baiza and Joe was asked to be the soundman at one of their rehearsals. Not long after, Joe was asked by Marshall to try out on bass and the rest is history. See A Wailing of A Town "An Oral History of Early San Pedro Punk" 1977-1985 (End Fwy Press/2015) for a more detailed Obstacles history.
Documented here is a 2-track reel to reel demo recorded in 1976-77 at Alex Burishkin's apartment in Long Beach. This demo is a duet of Jack and Marshall on acoustic guitars, playing a few gems from their Obstacles set. A precursor to Saccharine Trust that any ST fan (or not) would love to get their hands on. Great catchy tunes, played with a righteous fervor that will definitely get a reaction, one way or another. Limited edition of 100, give or take ...
_________________________
PRODUCT HIGHLIGHTS
• Includes Digital Download
• Bonus Track on Download
• Translucent Yellow Cassettes
• Limited Edition of 100
▬
WUBC 014
Release Date: 11/10/15